Over the past 20 years, the FreeMove Alliance has carved a prominent place in the mobile telecommunications industry. Our member operators—Deutsche Telekom, Orange, TIM, and Telia—have unwaveringly dedicated themselves to simplifying global mobile connectivity management for multinational companies worldwide. The strength of our Alliance has always stemmed from our unity. Our shared commitment, synergistic cooperation, and relentless innovation have always been at the core of our ethos.
In this light, our new logo comes as a profound emblem of this togetherness. Inspired by the strength of a four-strand rope, it stands as a visual testament to the combined power of our founding members and their dedication to delivering unmatched value for our customers. However, this rebranding signifies more than just a visual facelift. It embodies our collective resolve to continuously evolve, innovate, and offer top-tier services in the constantly changing landscape of mobile telecommunications.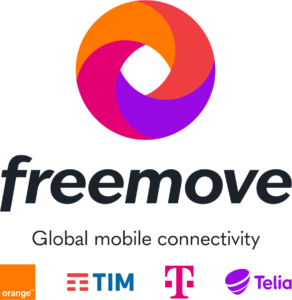 One of the key aspects of the new logo design is its adaptability. It has been crafted to integrate smoothly across a variety of platforms—from social media to websites, landing pages, and presentations. The logo's modern, streamlined look also enhances our brand recognition and gives us a fresh, competitive edge. We believe that this rejuvenated branding will resonate more powerfully with our global audience, creating a memorable image and forming a stronger emotional connection.
As we look towards the future, we remain committed to the GLOCAL approach that has been integral to our success. Offering both global reach and local expertise, we continuously strive to meet our customers' overall needs, making FreeMove an effortless organization to partner with. Coupled with our recent launch of the FreeMove Automation Solution, an automated hub that ensures seamless customer experience, we are excited about the opportunities this rebranding will present.
As we step into this exciting new chapter of our journey, we extend our heartfelt gratitude to all our partners, clients, and everyone who's been a part of our journey so far. Your trust and support have been pivotal to our growth and success. We look forward to continuing our mission of enabling collaboration between multinational companies and local operators and promoting the power of global mobility. Here's to another 20 years of growth, innovation, and delivering the best in mobile connectivity solutions.
New look, renewed commitment, and exciting times ahead—join us in embracing the change as we forge ahead into the future.